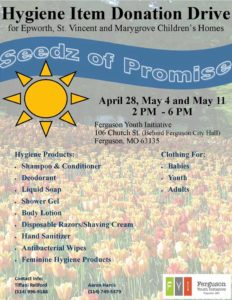 Help the Ferguson Youth Initiative (FYI) to #SupportYoungPeople by donating personal care and hygiene items to children and teens residing at Epworth, St. Vincent, and MaryGrove.  On April 28th, May 4th, and May 11th from 2p – 6p, the Ferguson Youth Initiative will collect your donated items at the FYI Backbay (located at 106 Church Street, Ferguson, MO 63135). For more information about this Youth Donation Drive, or about the Ferguson Youth Initiative, contact Tiffani Reliford at 314.996.9188, or Aaron via phone at 314.749.5379, or via e-mail at aaron@fyifergyouth.org.
To connect with Seedz of Promise, visit them on Facebook @SeedzofPromise, or facebook.com/SeedzOfPromise.
Please download the Youth Donation Drive Flyer to learn about the specific items our youth need.